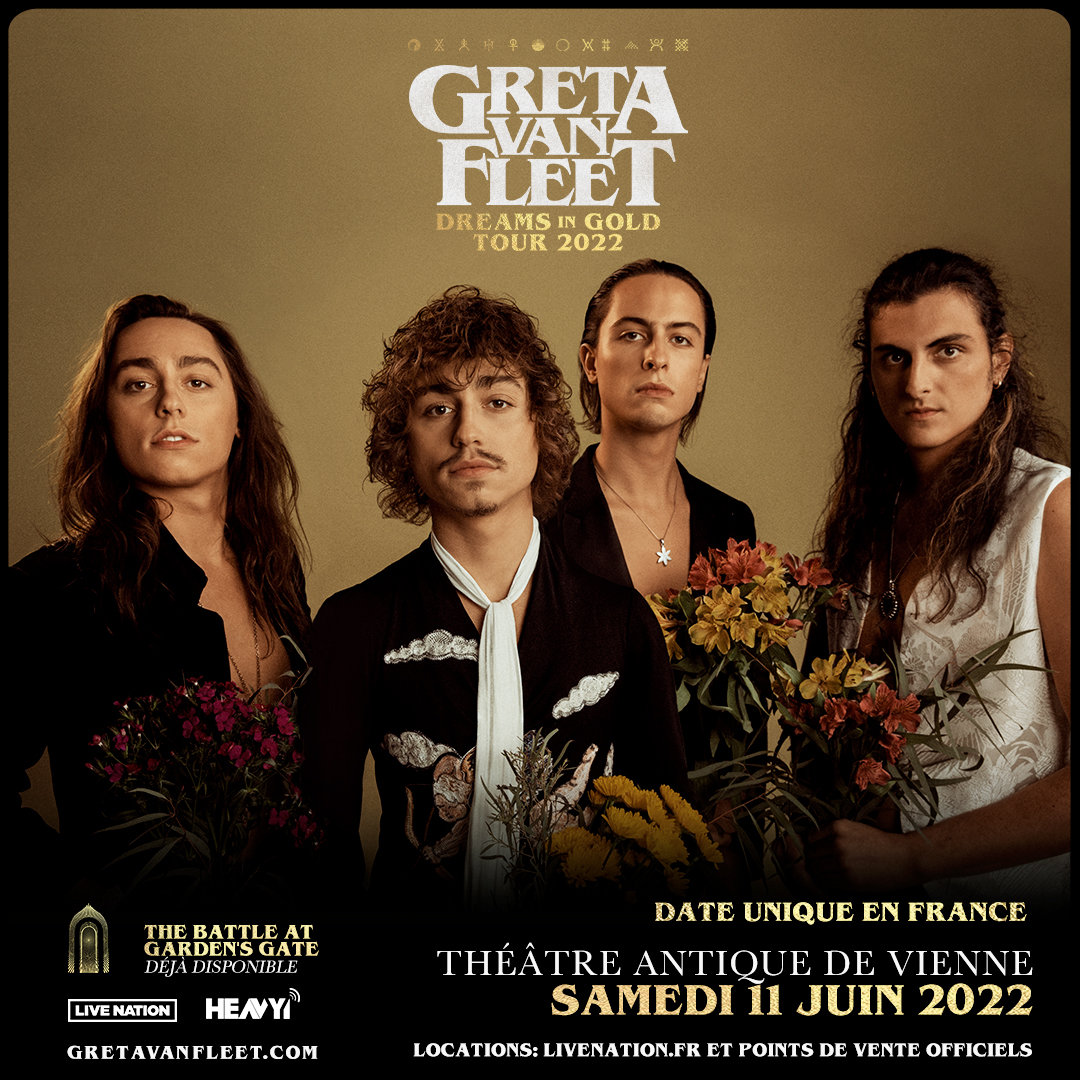 After sold-out shows this year and a Billboard No. 1 rock album, Grammy Award-winning rock band Greta Van Fleet is confirmed for its upcoming Dreams in Gold tour, which kicks off March 10 with the band's triumphant return to its home turf in Michigan for a series of arena shows, followed by dates in the Midwest and international concerts in Mexico, Europe and the United Kingdom.  
Strange Horizons, the band's special events in 2021, saw sold-out shows in Nashville, Bridgeport, Chicago and Los Angeles. The band's critically acclaimed album, The Battle at Garden's Gate, was released earlier this year to great chart success. It debuted at No. 1 on the Billboard Rock Album, No. 1 on the Billboard Hard Rock Album, No. 1 on the Billboard Vinyl Album, No. 2 on the Billboard Top Album Sales and in the Top 10 of the Billboard 200.
➡ Standing in the pit : 45.50€
➡ Sitting in the bleachers : 56.60€
➡  Disabled price (PSH): 45.50 €
Disabled customers may access the Roman Theatre platform for the disabled. Another ticket may be bought for an assistant companion. A disability identity card will be requested to access the platform. Please be advised that the companion's seat on the platform is not guaranteed unless their presence is necessary (underage or severely disabled attendees e.g.).
___
Greta Van Fleet + Opening act , Saturday, June 11, 2022, 8.00 pm, Roman Theatre