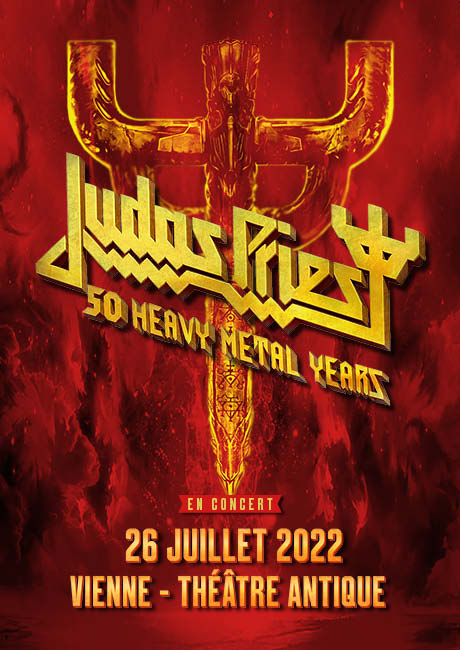 It's hard to say what could have excited these young Englishmen so much! Is it their origins? Birmingham, the city where they were born, is the cradle of some of the best bands in the world, like Led Zeppelin, or their colleagues and mentors from Black Sabbath. Is it simply the need to express their anger in a time when the future prospects seem meager and the oil shocks follow one another? Whatever the case, the members of Judas Priest have the rage in their bellies and they intend to make it known. At the head of the race, Rob Halford, their singer, who not only possesses an outstanding vocal technique but who does not hesitate for a single second to express himself frankly. When he's not singing, he's screaming. And when he's not screaming, he's hitting the high notes like no one else. And heavy music fans are not mistaken. In just a few years, he has earned his nickname of Metal God, because those who wanted to follow in the footsteps of Black Sabbath have in fact revolutionized a genre and set new milestones in the complex history of metal. The double pedal hammered like never before, even smashed under Scott Travis' feet, the guitar necks abused by a Glenn Tipton and a K. K. Downing, the English accelerate and write the bases of speed metal, registering Painkiller as a reference still unchallenged. And if they undoubtedly inspired generations of metalheads after them, it is not only by their music. The two guitar leads that answer each other and that will make the good days of Iron Maiden, it's them! The heavy metal biker style, all leather and spiked bracelets, it's them again! The sometimes impressive pyrotechnic effects, an idea that Rammstein happily took up, it's still them! No doubt about it, the band has written entire sections of the history of metal and still continues its crazy epic today.
➡ Standing in the pit : 74€
➡ Price seat 1st bleacher: 85€
➡ Price seat 2nd bleacher: 57.50€
➡ Disabled price (PSH): 57.50€
Disabled customers may access the Roman Theatre platform for the disabled. Another ticket may be bought for an assistant companion. A disability identity card will be requested to access the platform. Please be advised that the companion's seat on the platform is not guaranteed unless their presence is necessary (underage or severely disabled attendees e.g.).
___
Judas Priest 50 Heavy Metal Yars of Music + opening act, Tuesday July 26, 2022, Roman Theatre